Chisholm, Boyd & White Company, also known as "Boyd Power Press", is recognized throughout the world as a manufacturer of specialty presses. These presses are used to manufacture refractory brick, pavers, face brick, house brick or special blocks or bricks. Anywhere there is a need for highly reliable and very productive brick making equipment, Boyd presses excel.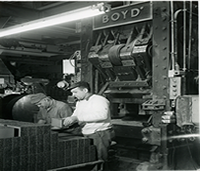 We can provide new or rebuilt pressing equipment based on your individual needs. At Boyd Power Press, our goal is to provide you with courteous, expedient and professional services.

Please browse our web site for more information about us. If you have any questions or would like to speak with a Boyd representative regarding our products and services , please e-mail us at cbwmtg@venturedyne.com or call us at 708-597-7550.

At Boyd Power Press, we are molded by our customers.